Cascades Climate and Weather
Clicking near one of the station names now shown in Cascades region of Washington will pop up another browser window containing climate data for that station.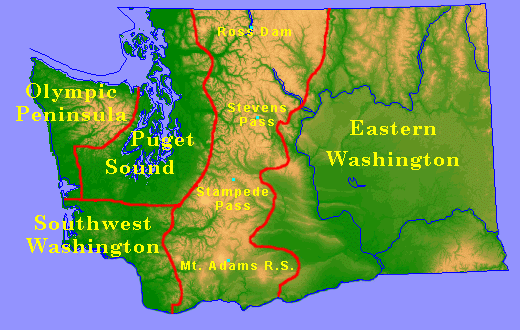 The Cascade Range bisects the state of Washington from north to south. Elevations of most peaks range from 4000 to 5000 feet in the south rising to 7000 to 8000 feet in the north. Numerous volcanic peaks go much higher, however, the largest being Mount Rainier at over 14,000 feet above sea level. Moisture bearing winds coming from the west give generous amounts of precipition to the western slopes with wintertime snow above about 3000 feet. The eastern slopes are drier and sunnier in general, making for a dramatic change in vegetation and landscape as one traverses through the Cascade Range.
This climate data presentation is a subset of that provided by the Western Regional Climate Center.