! web_links.html >

Mars related Web Links

Jim Tillman
mars@atmos.washington.edu

Our home page
http://www-k12.atmos.washington.edu/k12/

Selected links to background information, data, and results from the Mars Pathfinder and Viking missions, as described in UW and JPL web pages and by our "K-12 Education modules. (Prepared for hardcopy and web use.)

Yogi How do I get down from here!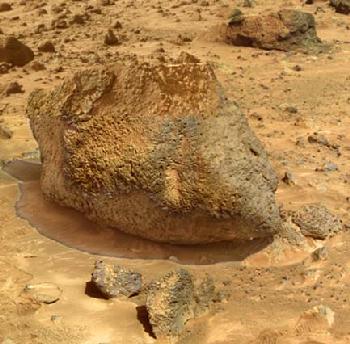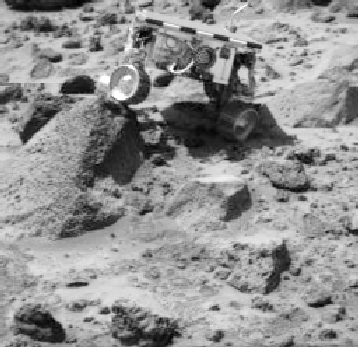 This link can be found at: http://www-k12.atmos.washington.edu/k12/mars/tillmans_reports/web_links.html
Tillman and collaborators; new Live from Earth and Mars program involving collaborative installation of high quality weather stations in schools, his invitation to participate as a Co-Investigator in the European Mars NetLander program, his Memorandum of Understanding with the NetLander Atmospheric experiment agreeing to sharing live data from Mars with his outreach program, and his contributions to the NetLander program and the Finnish, European USSR Mars 96 mission over the past decade are linked from http://www.atmos.washington.edu/~mars/
NetLander Project from the French program leaders, CNES, site at http://netlander@www-projet.cst.cnes.fr:8060/
Behind the Scenes at Mars Pathfinder Mission Operations, James E. Tillman;
Description of mission operations, meteorology data extraction and response to this "Live from Mars" component of our program. During the month of July, there were more than 2 million accesses to our web pages, represented by 10 million "hits". Extracted from August 1997: http://developers.ivv.nasa.gov/collab/pubs/bulletin/index.html
Mars: James E. Tillman Brief description of Mars and links to specific topics, especially Martian Meteorology. The climate, as reflected by atmospheric pressure, and temperature are described in some detail. http://www-k12.atmos.washington.edu/k12/resources/mars_data-information/mars_overview.html
Atmospheric temperature at the three levels of Pathfinders mast. Includes animation and link to running commentary. http://www-k12.atmos.washington.edu/k12/mars/LOPS_Pathfinder_temperatures.cgi
Live from Earth and Mars Our home page leading to North West Weather, a suite of in depth Education Modules, Mars data, and Pathfinder information. The site contains over 500 web pages and cgi's, in 98 MegaBytes of text, images and graphics. http://www-k12.atmos.washington.edu/k12/
Comments: Meteorology, operations and science. http://www-k12.atmos.washington.edu/k12/mars/live_1.html
Mars data, themes and resources Major experiments, data and links to collaborator developments, such reconstructing Viking lander environments, and the Pathfinder Magnetic Properties experiments, for students, teachers, and the public. http://www-k12.atmos.washington.edu/k12/mars/mars_resources.html
Viking Meteorology: The 3.3 year Martian climate record, from July 20, 1976, through November 12, 1982, as represented by the Atmospheric Pressure observations from the two Viking landers, is plotted and briefly annotated. http://www-k12.atmos.washington.edu/k12/resources/mars_data-information/meteorology_index.html
Viking Mission Operations at UW. Pioneering low cost planetary mission operations at UW, which enabled the last half of Lander 1's operation, is described in a 1984 paper "The Viking Mission to Mars", and other accomplishments of the Viking Computer Facility staff at UW. Highlights of Viking and Mars exploration are included. http://www.atmos.washington.edu/local-httpdocs/mars-meteorology.html
"Viking View of Mars" Permanent exhibit at the Smithsonian National Air and Space Museum, Washington, D.C. As a consequence of developing the "real time" downlink processing infrastructure at the Viking Computer Facility, Tillman initiated this permanent exhibit which was developed by his staff and The Center for Earth and Planetary Sciences at the Museum. Opertion was tested in September, 1982, and raw spacecraft bits were decoded in real time. Processed meteorology data and images were displayed in the museum within 5 minutes of the downlink from Mars and during normal operation, images were to be delivered line by line in real time. A super-mini computer was obtained by donation for the exhibit which was initially titled "Live from Mars"; this was the first computer driven exhibit at the museum.
http://www.atmos.washington.edu/local-httpdocs/k12/viking_history_npug_84.html#Smithsonian
Mars Pathfinder
Mars Global Surveyor