Mars Pathfinder Lander Models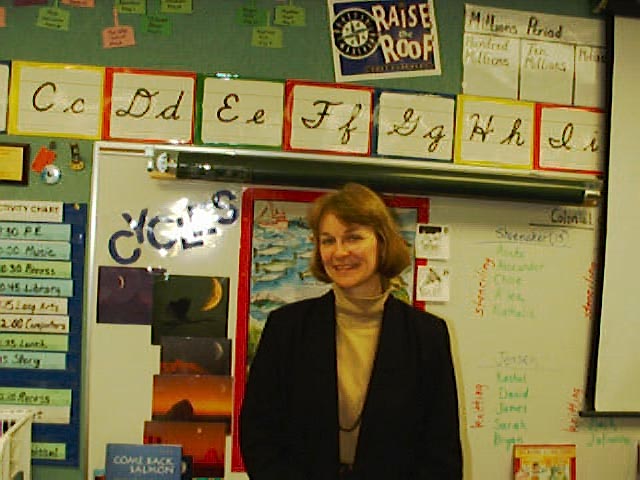 My name is Thelma Ritchie and I teach at Island Park Elementary school in Mercer Island, WA. My students constructed models of the Mars Pathfinder cruise module, lander, and rover from paper using patterns available online from JPL (the Jet Propulsion Laboratory).
Pathfinder "cut-outs" available from JPL

| | | | |
| --- | --- | --- | --- |
| | | | |
| Mars Pathfinder Cruise Stage | Mars Pathfinder Heatshield | Mars Pathfinder Backshell | Mars Pathfinder Lander |
General Directions:
Download and print the cutouts. (Note: select "Landscape" orientation, no headers/footers, and reduce to fit on a singe page--"Reduce or Enlarge" setting of 84% was required on my system). Copy onto different colored "card stock" for each part. We chose red for the Cruise Stage, blue for the Heatshield, green for the Backshell, and yellow for the Lander (and rover).
Have students cut out the shapes at home to save class time.
Cut on all solid lines; fold on all dotted lines.
Glue parts marked with an "X." Use glue guns rather than tape, glue stick, cement, etc.
Cut out strip "a." Attach slits and glue, forming a ring.
Fold tabs in toward the center.
Cut out circle "b." Glue to folded tabs on strip "a."
Place a line of glue around the edge of circle "c." Attach part "a/b."
Cut out fuel tanks, parts "d" and "e," forming a sphere. Cut slits to the center of each circle.
Slide "d" onto "e," forming a sphere. Repeat to make 4 fuel tanks.
Fold tabs on "e" in opposite directions. Glue fuel tanks to unprinted side below dotted circles. (Printed side is on the outside. Grids represent solar panels.)
Cut out display base strip with "Mars Pathfinder" label. Glue on the "X," forming a ring. Display the completed model on the ring.
Cut both pieces on solid lines.
Overlap the tab on the dotted line on the larger piece and glue, forming a cone.
Fold under the four tabs on the small circle and glue in place, forming a cap on the top of the backshell.
Lander with Rover and Electronics Box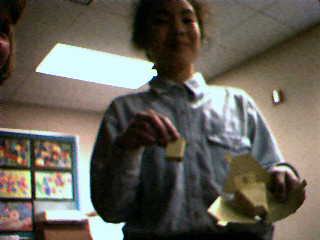 Cut all solid lines on electronics box; fold under on all dotted lines.
Connect slits on tabs and glue at "Xs," forming a triangular box.
Cut all solid lines on rover; fold under on all dotted lines.
Glue tabs at "Xs," forming a rectangular box.
Glue electronics box and rover to lander.
Lander petals may be folded up and closed with tabs and slits.
Cut both strips. Cut slits and join both strips to form one large ring. Glue.
Cut heatshield. Cut slit to center; overlap to dotted line and glue, forming a cone.
Fold tabs on heatshield in half.
Glue strip to tabs, forming a band around the edge of the heatshield.
Students showing their completed models

| | |
| --- | --- |
| | |

Download, print, cut out, and assemble your own 1/17 scale Mars Pathfinder models from JPL (the Jet Propulsion Laboratory) at:
http://mpfwww.jpl.nasa.gov/mpf/education/cutouts.html
© 1998 Live from Earth and Mars, Thelma Ritchie, and Rich Edgerton